.TOTO'S SOCCER PAGE
.


.............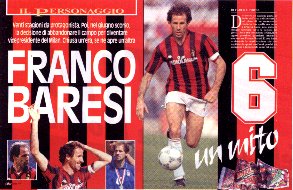 ............
........................
Franco Baresi, born in Travagliato (Brescia), arrived in Milan in the summer of 1974 when he was only 14 years old. From that moment on he wore the red-and-black shirt with pride and would earn one and a half million lire (his first wage packet was only twenty thousand lire- about seven pounds!). Playing for Milan he won, lost, suffered and triumphed in Italy and all over the world. His career was launched on the 23rd of April 1978, when he was selected for the first team in a game against Verona, which they went on to win 2-1. Once on the team, he was never pulled out, and he soon became a pillar of strength. At the tender age 22 Baresi, nicknamed 'Piscinin' by his team mates, became captain and earned the title of Golden Boy.
What followed was his 'ticket to ride'. In twenty years he played in 716 official games for the first team: 470 in seria A, 61 in B, 97 in the Italian Cup, 50 in the Italian Championship, 19 in the UEFA Cup, 6 in the European Supercup, 4 in the Intercontinental Cup, 3 in the Mitropa Cup, 5 in the Italian Supercup and 1 in the UEFA Playoffs.
He won 6 League titles ('78-79, '87-88, '91-92, '92-93 '93-94, '95-96), 3 Champions Cups ('88-89, '89-90, '93-94), 2 Intercontinentals (89 and 90), 3 European Super Cups (89, 90, 94) and 4 Italian Cups (88, 02, 93, 94.) He scored 12 goals in Seria A.
He played for the Italian national side 81 times, 31 as captain, and scored only one goal against Russia (in Bari, 20th February 1988) in a game which Italy won 4-1. He played for Italy in three World Cups, winning the ultimate prize in Spain in 1982; in 94 they lost against Brazil in a penalty shoot-out. His debut was on the 4th December 1982 (Italy-Romania 0-0) and his international farewell came in Maribor on the 7th September 1994 in a 1-1 draw against Slovenia. Alongside Beckenbauer and Scirea, he can be considered the greatest sweeper in the history of football.
For many years his brother Giuseppe played for Inter and was therefore one of his greatest rivals. Franco, who has four brothers and sisters, is married and has two children called Edorado and Gianandrea.
After hanging up his football boots, Baresi has become the Vice-president of the club and is in charge of the youth team. His colleagues in this job are also great ex-Milan players: Angelo Cloumbo (his right hand man) and Mauro Tassotti, the Primavera's trainer.
His number 6 shirt is already a legend and it has been taken away like Michael Jordan's shirt. At his final game in the autumn of 1997 a huge crowd of his followers and supporters had tears in their eyes when he left the field after twenty years at Milan.
AC MILAN NEWS

THIS YEAR IT'S COMING HOME TO WHERE IT BELONGS, WE WANT THE CUP!!, WE WANT THE CUP!!, WE WANT THE CUP!!
FORZA AZZURRI!!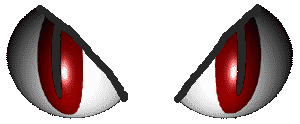 ONE MORE WARINING TO THE REST OF THE WORLD, DON'T SLEEP ON THE AZZURRI, CUZ WE GOT OUR EYEZ ON YOU

!WEB RAISPORT - Tutto lo sport in tempo reale (2)
!WEB RAISPORT - Tutto lo sport in tempo reale

Sign My Guestbook
View My Guestbook

if u cant hear the music then u need realplayer 8 -- it's free